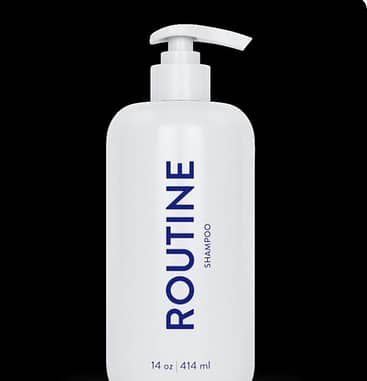 Who does not want their skin and hair to look perfect? Everyone wishes to look flawless and fabulous. But intending to achieve the desired results, it is essential to maintain a strong hair game. As much as people tend to take care of their skin, they don't make enough effort for their hair. Hair is one of those things that takes a lot of time to settle, and for the hair to get styled correctly, it needs to be treated the right way. Great shampoos, conditioners, and serums are products that help to keep the hair healthy.
Hundreds of hair products are available in the market, but products that do not cause damage and provide several benefits are sometimes hard to find. Routine shampoo is one of those products that does wonders if given a chance.
Also Read: Vibriance Super C Serum Reviews: All You Need To Know
ABOUT ROUTINE SHAMPOO
All products developed by Routine are made in San Francisco and are available all over the USA. The shampoos can be used by anyone, regardless of the gender. What makes their products popular is the absence of sulfate and paraben, as these elements cause damage to the hair and ruin them for a longer time. The shampoo is favorable for all kinds of hair, including colored and dyed hair. Voluminous, shiny, and thick hair are the main features of products made by Routine.
INGREDIENTS
The Routine Shampoo is made of pure and organic compounds found naturally. Any artificial chemicals and acidic elements are not used in these products. The following ingredients are used in the making of these hair products.
· The brand does not claim casually that its products are used to protect against hair damage and control breakage. The use of Argon oil in the shampoos helps to achieve this goal. Due to the usage of high-intensity hair tools, the scalp gets dry, which results in hair fall. Argon oil is a combination of fatty acids and vitamins that collectively work as one of the significant elements in shampoos.
·         One of the essential elements used in the Routine shampoo and conditioners is Caffeine. It boosts the hair growth cycle, which increases hair growth. The stimulation of the hair growth cycle also repairs the damage, gives volume, and speeds up blood flow.
· Coconut oil is another active compound used in the formation. Coconut oil is commonly used for hair oiling due to its benefits. The addition of this ingredient increases the value of the product. Coconut oil helps in improving hair growth and texture. It also adds the ultimate shine to hair and improves the scalp, which helps to reduce dryness and frizz from hair.
· Another natural ingredient that contributes to hair shampoo is the extracted oil from plants of saw palmetto. The extractions from saw palmetto boost hair growth and improve the scalp skin by reducing the risk of acne or inflammation. The use of other chemical-based products can cause such skin inflammation.
· Moreover, Aloe vera and Niacinamide work as restoring agents. They control hair breakage and add moisture to the hair, which helps in increasing the volume.
BENEFITS
80% of the routine wellness shampoo reviews are optimistic due to its remarkable features.
Made Of Natural Products
The predominant part of Routine Shampoos is that they use products obtained naturally from seeds and plants. The presence of natural elements makes these cleansers chemical-free. The shampoos do not contain any sulfate and acids that can damage the hair.
Speeds Up Hair Growth
These shampoos improve the hair cells, which increases hair growth. The formation of strong and improved cells strengthens the hair and gives the utmost volume that makes hair fresh and glossy.
Adds Shine To Hair
Anyone who uses this shampoo for maximum time and stays consistent would observe remarkable results. Proper usage of the products makes the hair more shiny and healthy.
Scalp Treatment
The combination of both shampoo and conditioner works great for the scalp. These products remove excessive oil from the scalp, which helps to provide moisture and make hair feel soft and smooth.
WHICH OTHER HAIR PRODUCTS DOES ROUTINE OFFER
Besides shampoo, Routine also provides hair conditioners, serums, and masks. They have a good range of hair products that are constructive and valuable. If you are searching for good hair range products, you must try these out for a change. Keep reading to know more about routine shampoo and conditioner reviews.
Together, the shampoo and conditioner are available in different variants and scents. Cucumber, Coconut, Vanilla, and Rose Hops are their most like flavors. Talking about the conditioner, it helps to improve the texture and shine of hair. In addition to that, it makes your hair feel soft like never before.
The elements used to develop the conditioner are approximately the same as the Routine shampoo. For impressive results, both products are preferred to be used together. They make a majestic pair when it comes to successful hair products.
FREQUENTLY ASKED QUESTIONS
1. Can it be used on every hair type?
Yes. The Routine shampoo is suitable for every hair type.
2. Does routine shampoo really work?
The shampoo has worked like magic for most of the people. You have to be consistent to observe the actual results. Make a schedule and follow it regularly.
3. What is the cost of both hair and shampoo?
The price of the Routine shampoo and conditioner is around 30 dollars each. The size of the products is 414 ml, which can be utilized for two to three months.
4. How often the shampoo should be used?
You should wash your hair at least three days a week using the Routine shampoo.
5. Are there any side effects?
The products are made from all-natural ingredients and do not contain any artificial colors and items; thus, it has no such side effects.
WRAPPING IT UP
Routine shampoos are known because of their high-quality products that are organically made. Elements like coconut oil, aloe vera, and tea tree oil make these shampoos more popular because these items make hair feel thick and fresh. If you are following the complete article, you must have gained a clear idea of routine shampoo review.
The proper usage of this product helps to increase hair growth and strengthens the roots of the hair. Most importantly, it also reduces scalp problems. You can pick any variants of these shampoos according to your liking. The product can be purchased easily from its website and tested within its warranty period.
For effective results, it is recommended to use the shampoo and conditioner consistently for a few weeks.