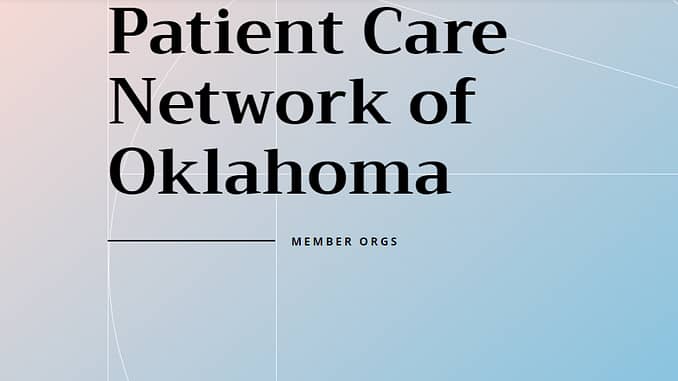 In the present era, technology plays a significant part regardless of the work field. To grow business every corporation needs to improve its technical methods. Even in medical science networking and the utilization of technology have made a drastic difference in providing quality services to the patient.
The patient care network of Oklahoma has initiated the step of adaptation to networking in medical science. They have merged science and technology along with medicines for the benefit of patients. With constant effort and dedication, care Oklahoma's health network has successfully improved the healthcare facilities for many patients.
In this blog, we will be discussing PCNOK patient care in Oklahoma. If you are thinking this organization Can help you with your health and your loved ones Then this article is all you need to know.
What is PCNOK?
This stands for the patient care network of Oklahoma which is a healthcare organization that provides primary healthcare facilities in different states. This organization was established in 2014 and since then they are adopting new technology in the healthcare industry to provide better healthcare facilities to patients.
The point that makes it different from the rest of the healthcare industry is that it provides digital health and basic solutions to those patients who cannot reach hospitals. Hospitals provide the best healthcare for acute patients but what about chronic patients who are suffering from diseases for many years? For such patients, it is very important that they get all the information regarding their treatment at home. This helps in avoiding mortality due to the unavailability of knowledge.
The patient care network was a significant relief for patients especially during the pandemic when everyone could not go to the hospital. At that time people were availing the telephonic medical facilities.
The Mission of the Patient Care Network of Oklahoma
Their mission is to provide the best healthcare facilities to each patient and by adding technology into medical sciences they can improve the quality of treatments. They work as a network with the collaboration of other organizations so that collectively they can make improvements in the healthcare industry.
Also Read: Spinal Decompression Therapy
They are working on different projects regarding research and healthcare training. With collaborations, they are expanding their inventories. Not just looking for their business but it is about providing better treatment to the patient so many patients who do not have enough money, also have plans for free treatment.
How Does This Work?
Other than the basic healthcare facilities their main goal is to adopt the latest technology in the medical field. By using technology they can easily monitor their patients who are not present in the hospital territories. With the help of the latest communication techniques, they are connected with the whole healthcare network and the patient.
The main reason for these improvements is to build a connection between the healthcare team and patients. Elderly patients who cannot visit hospitals on regular basis by their telephone facility provide long-term healthcare therapy to them.
The best part about this corporation is that they are constantly monitoring the performance of the staff as well as the health of the patient. According to their motive distance does not matter what matters are that a patient should get the most efficient treatment on time.
Advantages of This Network:
Following are some of the benefits of the Patient Care Network of Oklahoma:

They have a team of talented and hard-working professionals who are working with full dedication for the betterment of patients. They provide the best healthcare facilities to the patient in the comfort of their own home.

When patients are connected with a physician on regular basis the doctors can make the right decision regarding their treatment. If any change is required they quickly make it.

Rather than going to hospitals within their homes patients can connect with professionals.

This organization is adopting new techniques which ultimately help in the better treatment of patients.
Also Read: Online Medical Supply Store and Tips
FAQs:
What benefits does this healthcare organization provide?
This is a healthcare organization that is working efficiently to provide the best healthcare facilities for their patients at home. When technology is adopted in the healthcare industry this results in timely decision-making in sudden health miseries.
Where is the headquarters of PCNOK located?
The headquarter of the patient care network integrated medical delivery is located in Oklahoma.
Who can get their treatment?
Patient belonging to any class or state can get their treatment in the Oklahoma health network. They also have free-of-cost treatment if the patient underlies in that category where they cannot afford treatment.
Does PCNOK accept insurance?
The patient care network in Oklahoma does accept most healthcare insurance such as self-pay, patient Medicaid, Medicare, and private insurance.