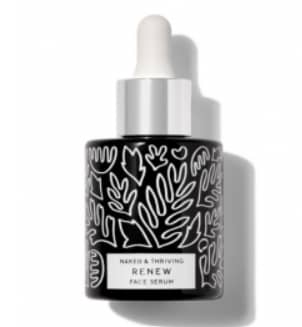 Many people have explored various skincare options for age-defying, radiant skin. Naked Thriving Renew Serum is a distinctive selection of alternatives. This serum, which promises a "youthful glow," has drawn the interest of both skincare experts and enthusiasts. But does it fulfill its sweeping promises? This thorough examination examines every aspect of this alluring serum, from what's in the bottle to its efficacy, benefits, downsides, and who would benefit most from it.
Also Read: Green Tea Poreless Deep Cleanse Mask Stick for Face Purifying Clay for Blackhead Remover Reviews
Ingredients: What's Inside the Bottle?
These ingredients offer a range of skincare benefits and are free from harmful additives like fragrances and harsh preservatives. This makes a well-formulated product likely to improve skin quality and reduce wrinkles.
| | |
| --- | --- |
| Ingredient | Function |
| Sodium Hyaluronate | Esteemed for its ability to lock in skin moisture, lessen the appearance of age lines, and assist in the creation of skin-firming substances. |
| Ferulic Acid | An effective neutralizer of free radicals that helps in maintaining the structural integrity of skin-firming proteins. |
| Vaccinium Myrtillus Extract | Boosts the defensive capabilities of the skin and provides a shield against external aggressors like pollutants and germs. |
| Aloe Leaf Juice | A time-honored solution for boosting skin hydration that has stood the test of time. |
The Science Behind the Ingredients
Understanding the science behind these ingredients can help you make an informed decision about incorporating this serum into your skincare routine.
Sodium Hyaluronate:
A form of hyaluronic acid renowned for skin rejuvenation.
Closely related to Naked & Thriving hyaluronic acid, recognized for superior hydration.
Highlighted as a "skin rejuvenating biomedicine" in the International Journal of Biological Macromolecules.
Ferulic Acid:
A powerful antioxidant.
Protects skin structures like collagen and elastin.
Vital for combating aging effects from free radicals and environmental toxins.
Pros: Why Choose Naked and Thriving Renew Serum?
Naked & Thriving Renew Serum is a top contender if you're looking for a skincare product that combines efficacy with ethical practices.
Also Read: Routine Shampoo Review: What The Hype Is About
Effective Ingredients: The serum is formulated with scientifically backed ingredients known for their skincare benefits, ensuring you're putting only the best on your skin.
No Harmful Additives: Free from harmful additives like fragrance and harsh preservatives, this serum is suitable for sensitive skin, allowing for a worry-free skincare routine.
Ethical Claims: The brand is transparent and ethical in its marketing, avoiding the misleading "clinically proven" labels often seen in the skincare industry, so you can trust what you're buying.
Sustainability: Naked and Thriving is committed to ethical and sustainable practices, making it a responsible choice for eco-conscious consumers.
High Customer Satisfaction: With over 400 customer reviews on their website, the serum has garnered a lot of positive feedback, giving new users confidence in its effectiveness.
Cons: What Could Be Better?
While this Serum has many strong points, it's essential to consider some of its limitations before purchasing.
Limited Availability: The product is primarily sold on the Naked and Thriving website, which limits the availability of unbiased third-party reviews.
Price Point: Some users find the product to be on the expensive side, especially considering the quantity offered.
Skin Reactions: A few users have reported skin breakouts after using the product, as noted in some Naked & Thriving Renew resurfacing night serum reviews.
Who Should Use This Serum?
When it comes to skincare, one size doesn't fit all. Knowing who should and shouldn't use Naked and Thriving Serum can help you decide if it's the right product.
| Good Candidate | Not a Good Candidate |
| --- | --- |
| Those with dry, aging skin | Those with sensitive or acne-prone skin |
| Ethical consumers | Budget-conscious individuals |
| Individuals looking for long-term skincare solutions | Those seeking quick, overnight results |
| Users interested in scientifically-backed ingredients | Individuals who prefer synthetic skincare products |
| People who prioritize cruelty-free and vegan products | Those indifferent to ethical considerations |
| Those who value transparency in health claims | Consumers who rely solely on clinical claims |
How to Use Serum for Best Results
One of the most crucial aspects of any skincare product is its application. Applying serum during your nighttime skincare routine and following a specific application routine is recommended.
Steps for Best Results:
Cleanse Your Face: Clearing your face of any debris and makeup will give you a blank canvas to work with.
Tone: Apply a toner to balance the skin's pH and prepare it for serum application.
Patch Test: Conduct a patch test on a small area of your skin to ensure no adverse reactions.
Apply the Serum: Dispense a small amount of Serum onto your fingertips and gently apply it to your face and neck, avoiding the eye area.
Wait for Absorption: Allow the serum to absorb into your skin fully. This usually takes a few minutes.
Moisturize: Seal the serum with a moisturizer suitable for your skin type.
Nighttime Use: Use the serum in your skincare routine for best results.
Comparative Analysis: Naked & Thriving Renew Resurfacing Night Serum vs. Popular Alternatives
Let's compare Naked & Thriving Renew Resurfacing Night Serum with popular night serums like Estée Lauder Advanced Night Repair and SkinCeuticals Retinol 0.5 Refining Night Cream.
| | | | |
| --- | --- | --- | --- |
| Features/Brand | Naked & Thriving Renew Resurfacing Night Serum | Estée Lauder Advanced Night Repair | SkinCeuticals Retinol 0.5 Refining Night Cream |
| Price | $28.00 – $68.00 | $105.00 | $76.00 |
| Key Ingredients | Glycolic Acids, Alpha Hydroxy Acids, Ferulic Acid, Hyaluronic Acid | Hyaluronic Acid, Bifida Ferment Lysate | Retinol, Chamomile Extract |
| Skin Types | All Skin Types | All Skin Types | Normal, Oily, Combination |
| Ethical Practices | Yes (Sustainable, Cruelty-Free) | No | Yes |
| Availability | Official Website | Multiple Retailers | Multiple Retailers |
| Customer Reviews | Naked and Thriving reviews are 4.6 Based on 1,100 Reviews | 4.7 Based on 3,000 Reviews | 4.5 Based on 800 Reviews |
| Special Features | Sustainable Glass Bottle, Subscription Option | Free Travel Size | Designed for Skin New to Retinol |
Wrapping Up
Naked and Thriving Renew Serum offers a well-balanced formula that combines effective, scientifically backed ingredients with ethical brand practices. While it may not be the go-to solution for everyone—particularly those with sensitive skin or budget constraints—it has received overwhelmingly positive reviews, making it a product worth considering in your skincare regimen.
FAQs
Is the product vegan and cruelty-free?
Yes, this Serum is vegan and cruelty-free, making it suitable for animal welfare-conscious people.
How long does it take to see results?
While individual results may vary, most users report noticeable skin hydration and texture improvements within a few weeks of consistent use.
Can it be used with other Naked & Thriving products?
Yes, the serum can be used in conjunction with other products for a comprehensive skincare routine.