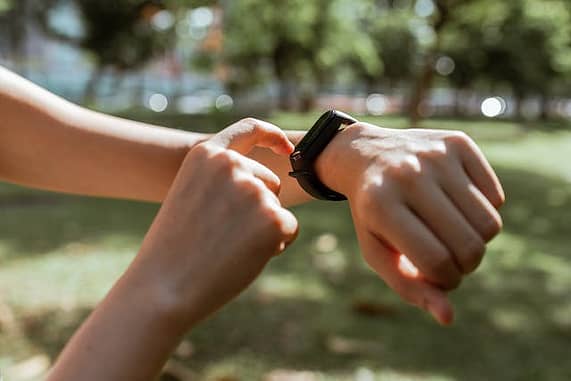 In this world full of new technologies and inventions, who wants to avoid carrying smart devices along with them? Besides cell phones, laptops, and tablets, smartwatches have made a more significant impact nowadays, not just because they complement each outfit well and enhance every look but also due to their functionality.
An electronic gadget can only accompany you for a limited time if they are charged. Similarly, like every other device, the Fitbit watch can make life easier when wholly fuelled. It is not easy to carry chargers everywhere you go, but what if you could still get a hold of your device without a charger? Follow up to find a solution to your problem.
ALTERNATIVES TO CHARGE A FITBIT WATCH
Multiple methods can be used to charge Fitbit smoothly and hassle-free.
1. USB Connector
With the help of USB connectors, you can charge your smartwatch. All you need to do is connect the charging cable to any of your Laptop or Desktop USB ports. Attach one end of the cable wire to the port of the laptop and the other end of the cable to the port of the watch. Make sure the wire is fixed adequately from both ends.
While connecting the cable to any USB port, ensure your connecting device is switched on and does not go into standby mode while the watch is charging. If the power cuts off or your computer shuts down for any cause, the charging will get disconnected automatically and must be connected again to resume the process. However, the charging speed may vary compared to the standard charging method.
2. Power Bank
Power banks are one of the most suitable ways for charging devices like cell phones and smartwatches. Connect the Fitbit charging cable to one of the ports of the power bank. Make sure that your power bank is fully charged when you are carrying it at any place. Since the device can be taken quickly anywhere, it must be set beforehand to operate on time.
Some power banks tend to heat up eventually. Therefore, it is preferred to give a break to your device to avoid any trouble later and protect your watch from any internal damage. If you rely on this technique, note the power bank's time to charge the Fitbit. This idea will help you to make correct use of such devices shortly.
3. Wall Chargers
Wall chargers are portable and easy to use. No laptop or other device is needed to connect to the Fitbit. Place the wall charger into any socket at your home and join the cable wire to that charger and then to your Fitbit; it will start charging. Wall chargers can be defective sometimes and spread viruses to gadgets. Make sure the charger you are using is excellent and error-free.
REPLACEMENTS CAN BE GIVEN A CHANCE
You don't have to worry if you cannot charge the Fitbit with its charger. The other methods can be used without any significant issues. You may be concerned if alternatives affect the watch's performance or battery life. None of the ways can cause any damage to the device.
You must keep a proper check and balance of your chosen techniques. Observe the process while charging your watch without its charger, and if you note any change, try to solve the issue immediately or switch to another option to set the Fitbit properly. Be careful while inserting the charging cable into the watch and other devices, and ensure that the wire is attached correctly on both ends to obtain the required results.
GUIDELINES FOR CHARGING FITBIT
Even though charging a device is less complicated and tricky, specific measures should be considered while charging your smartwatch to avoid any trouble.
· Never put your watch on charging if it's already charged up to 80%. Charging up a device that's already charged can be harmful. Charge your fitness watch when it's almost 0% or below 20%. In this way, the charging process gets smoother and ends up charging the watch completely in a limited time.
· Proper maintenance of the Fitbit watch is necessary. Even if it's been months that you have purchased your watch or maybe years, it is essential to keep track of it. Clean it using wipes dipped in miscellaneous water or alcohol to remove all the dust and particles. Do not use liquid directly on your watch; it can damage the internal system. Moreover, keep a check of the screen and battery frequently.
· Various chargers and cable connectors can be found in the market, but not all are right for your device and cannot be relied upon. Make sure to use the designated charger and cable with the Fitbit watch.
· Check the Fitbit watch after a particular time to ensure it's charging. If the battery percentage does not increase after a specific time, connect the charging cable again. Refrain from doing experiments related to your watch accessories.
· Anything that is overused creates a problem. Smartwatches provide several features that make them worth it. This watch has everything from counting everyday steps to calculating sleep time, but using it more than its capacity can sometimes be challenging. Use the Fitbit to ensure it does not heat up, and close all apps and tabs before charging it.
· Be mindful of any other device or charger you use to charge your watch. Most of the time, the chargers the brand does not provide themselves do not work well for a device. Be careful when choosing the alternatives to charge the watch.
BOTTOM LINE
Like other smartwatches, Fitbit is also one of the watches that must be charged every 2 or 3 days to operate. It's more like a fitness band many people use. Considering the "what ifs", a usual question arises: how to charge Fitbit without charger? Fitbit watches can be charged by different methods easily. You don't have to worry if you have lost its original charger or if it is unavailable. USB connectors, power banks, and wall chargers are some ways that can be used to charge the Fitbit. Remember the tips and rules to follow before opting for any method. Besides that, always keep track of your watch correctly so you can be tracked accurately anywhere or at any time.